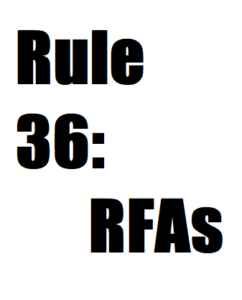 In In Re: Asbestos Litigation (Stewart), the sole remaining Defendant in the case filed Requests for Admission ("RFA") directed to the Plaintiff.   All 22 RFAs sought admissions related to Drillings Specialties Company ("DSC"), which allegedly sold asbestos containing products that the Plaintiff was exposed to. DSC's successor in interest was previously a co-defendant in the case but reached a settlement with Plaintiff and was dismissed.
Plaintiff objected to 19 RFAs based on a lack of personal knowledge and 3 RFAs because they sought an admission about an ultimate fact at issue.  Thereafter, the Defendant filed a Motion to Compel claiming that the RFAs were drawn from statements Plaintiff made in her Opposition to DSC's Motion for Summary Judgment and the proper subject of admissions.
The Special Master noted that pursuant to Superior Court Civil Rule 36, a party cannot object to an RFA because he or she does not personally have the information requested.  Instead, the party must make a "reasonable inquiry and [state] that the information known or readily obtainable by the party is insufficient to enable the party to admit or deny…"
The Special Master ruled that any objections based on lack of personal knowledge were insufficient because "while Plaintiff may not have had personal knowledge of the fact that [DSC's product] contained asbestos, her counsel knew that fact and represented it to the Court, such that upon reasonable inquiry she or her counsel should have admitted such fact in her answers to this RFA." Further, the objections did not indicate that Plaintiff made a reasonable inquiry and deemed the RFAs objected to on that basis admitted since the RFAs related to basic facts that were drawn from Plaintiff's own representations.
Conversely, RFAs are not the appropriate mechanism to establish the ultimate facts at issue. The Court denied Defendant's Motion as it related to the three RFAs that sought to establish an "ultimate fact at issue" because RFAs are a means to eliminate facts about which there is no controversy, not establish a legal conclusion or an ultimate fact at issue that generally requires expert testimony.