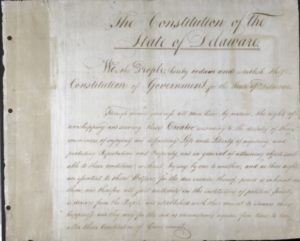 In Delaware State Sportsmen's Association and the Bridgeville Rifle and Pistol Club v. Delaware Department of Natural Resources and Environmental Control and Delaware Department of Agriculture, C.A. K18C-05-047-JJC (Del. Super. Oct. 11, 2018), Plaintiffs challenged new regulations issued in light of the Delaware Supreme Court's holding in Bridgeville Rifle and Pistol Club, Ltd. v. Small, 176 A.3d 632 (Del. 2017) ("Bridgeville I"), which struck down regulations prohibiting firearms in state parks.  In the case at bar, Plaintiffs challenged the regulations as a violation of their right to keep and bear arms and to be free from unreasonable searches and seizures. The new regulations prohibited firearms in camping areas of state parks and state forests where people sleep overnight with their families and permitted officers to perform background checks on people carrying firearms and to demand permits from concealed carry holders.
The Court's inquiry began with the burden of proof.  The Court noted that when the constitutionality of a regulation is challenged, the Agencies hold the burden in establishing their constitutionality and the regulations are subject to intermediate scrutiny. The Court held that the Agencies' designation of camping areas as "sensitive," did not survive intermediate scrutiny, and fashioned a three-part test for determining if an area's designation as "sensitive" satisfies intermediate scrutiny: (1) whether there is a controlled entry point; (2) whether visitors are screened by security; and (3) whether the area is supervised by law enforcement personnel or easily accessible to law enforcement and emergency responders.  The regulations failed the test and were struck down.
Additionally, Plaintiffs challenged a portion of the regulations that permitted law enforcement officers to ask an individual for identification to conduct a background check. The Court held "[t]hese regulations give unfettered discretion to law enforcement to stop visitors, question them and require identification without requiring a scintilla of evidence of criminal activity." The regulations pertaining to the request for identification were held to be facially unconstitutional, where the regulations would be invalid under any possible set of circumstances.  The Court struck this portion of the regulations as unconstitutional under both the Fourth Amendment and Article I, Section 6 of the Delaware Constitution.
The Court also struck down a provision of the regulations where the Agencies overstepped their authority and attempted to recognize out-of-state concealed carry permits for visitors of state parks and state forests. The Delaware Attorney General has the sole authority to issue concealed carry permits and the Court held this portion of the regulations was preempted on statutory grounds.
Read the full opinion here.