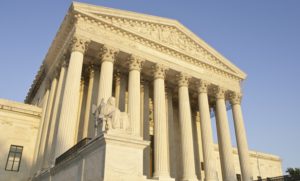 This morning, the United States Supreme Court decided a matter that will likely have a significant impact on Delaware.  In TC Heartland LLC v. Kraft Foods Group Brands LLC Decision, the Court concluded that most patent infringement lawsuits can only be brought in the defendant's state of incorporation.  In so holding, the Court reversed the Federal Circuit's broad application of 28 U. S. C. § 1400(b), which provides  that  "[a]ny civil  action  for  patent infringement  may  be  brought  in  the  judicial district  where  the  defendant  resides,  or  where the  defendant  has committed  acts  of  infringement  and  has  a  regular  and  established place  of  business."  The Federal Circuit had concluded that 28 U.S.C. § 1391's broader definition of what it means for a company to "reside" in a judicial district controlled.
The Court noted that § 1391 (as amended), provides that, "[e]xcept as otherwise provided by law" and "[f]or all venue purposes," a corporation "shall be deemed to reside, if a defendant, in any judicial district in which such defendant is subject to the court's personal jurisdiction with respect to the civil action in question."  The Court concluded, however, that the amendments to § 1391 were not intended to and did not modify the meaning of § 1400(b).  Ultimately, the Court opined that a "domestic corporation 'resides' only in its State of incorporation for purposes of the patent venue statute."
With so many companies incorporated in Delaware, the Supreme Court's holding could lead to even more patent infringement lawsuits being filed in Delaware.  Although a significant percentage of patent suits are already filed in Delaware, many patent plaintiffs chose to file in other jurisdictions that some viewed as more favorable to plaintiffs.  Most of those plaintiffs, however, will now have to come to Delaware if they want to file a claim against a Delaware entity.
The Court's full Opinion can be found here.
– Blake A. Bennett is a Director in the firm's Litigation Department with significant experience serving as Delaware counsel to both plaintiffs and defendants in patent infringement disputes.