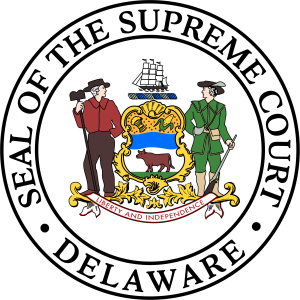 On appeal from the Court of Chancery, the Delaware Supreme Court addressed whether and to what extent a charging lien may be imposed on a judgment to recover unpaid attorney's fees.
In the case at bar, Katten Muchin Rosenman LLP ("KMR") was retained by Martha Sutherland, a minority member of a closely held corporation, who was ousted from her director position.  KMR and Sutherland entered into an hourly fee agreement and filed a derivative and double derivate lawsuit against the remaining directors.  Upon this filing, a new director was added to the company's BOD for impartiality purposes and determined the suit was without merit; however, two of the directors' employment agreements were modified as a result of the litigation efforts.
Litigation dragged on and by 2011, Sutherland, while paying some of the attorney fees, had amassed over $750,000 in unpaid fees.  KMR withdrew as counsel, yet litigation continued until its conclusion in 2012 without any further compensation to Sutherland.  At this juncture, Sutherland sought an award of attorney's fees for her efforts in the sum of $1.4 million. To support her request, Sutherland used KMR's invoices and argued that the fees were "fair and reasonable."
The Court of Chancery awarded Sutherland $275,000 for the minor benefits she obtained on behalf of the company.  At this time, KMR intervened and attached a petition for a charging lien on the entire fee award. In denying the petition, the Court of Chancery cited Doroshow, a case involving a contingent fee agreement, for the proposition that "[s]eeking a charging lien for work which produced no benefit when the law firm has already been paid for the work which produced the benefit … is inconsistent with the theoretical underpinnings of the attorney's charging lien."  KMR appealed.
On appeal, the Supreme Court reversed and remanded.  The Court, in an Opinion authored by Chief Justice Strine, distinguished between contingent and hourly fee agreements finding, unlike a contingent fee, the total amount a client is required to pay her attorney pursuant to an hourly fee agreement is not based on the client's recovery.  If an attorney who entered into an hourly fee agreement has reasonable and necessary unpaid fees that are greater than the client's recovery, the attorney is entitled to a charging lien on the entire recovery. Because the firm's fees were reasonable and necessary, a charging lien on the entire recovery was warranted.
Read the full opinion of Katten Muchin Rosenman LLP v. Sutherland here.