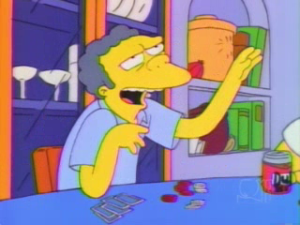 In a typically colorful and engaging written decision from Vice Chancellor Glasscock, His Honor cited two of the most famous residents of the fictional town of Springfield: Moe Szyslak and Homer Simpson.  The Memorandum Opinion in Walker, et al. v. Williams (9667-VCG) decides a dispute between neighbors regarding one's construction and use of what the Vice Chancellor refers to as an "auto tinkerer's Taj Majal."  The plaintiffs argued that the building at issue and the defendant's use of the building violated County codes and constituted a nuisance.
The first step in resolving the dispute required the Vice Chancellor to decide how to refer to the building in question.  The plaintiffs referred to it as "the garage," which the Vice Chancellor believed was likely done to equate it to a commercial garage.  The defendant, however, referred to the building as his "man-cave."  This nomenclature dispute led to footnote 6 of the Vice Chancellor's opinion:
Perhaps Williams, like Moe Szyslak, finds "garage" effete and Frenchfied:
Moe: The "garage"? Hey fellas, the "garage"! Well, ooh la di da, Mr. French Man.
Homer: Well what do you call it?
Moe: A car hole!
See The Simpsons, The Springfield Connection (Fox television broadcast May 7, 1995).
Legal scholars interested in confirming the accuracy of that citation can revisit that scene courtesy of Youtube: here.
In the end, the Vice Chancellor concluded that the "Shop" did not constitute a nuisance but did find that the defendant and his guests had been overburdening an easement across plaintiffs' property.
The Court's Opinion is available: here.