Whether you are sitting  anxiously awaiting a jury decision or just happen to have shown up early to a routine motion day, anyone who litigates in Delaware has spent a great deal of time making small talk in the courtroom.  Most likely because it is front and center in most of the courtrooms, one of the most common topics raised by out of state counsel or clients is Delaware's seal.  The questions usually range from "Is that a cow?" to "Who are the two guys looking at each other?"  If you have ever struggled with similar questions, here is your cheat sheet.  Although the Court of Chancery's seal is slightly different (a topic for another day), the  Supreme Court and the Superior Court's seals are derived from the Great Seal of the State of Delaware.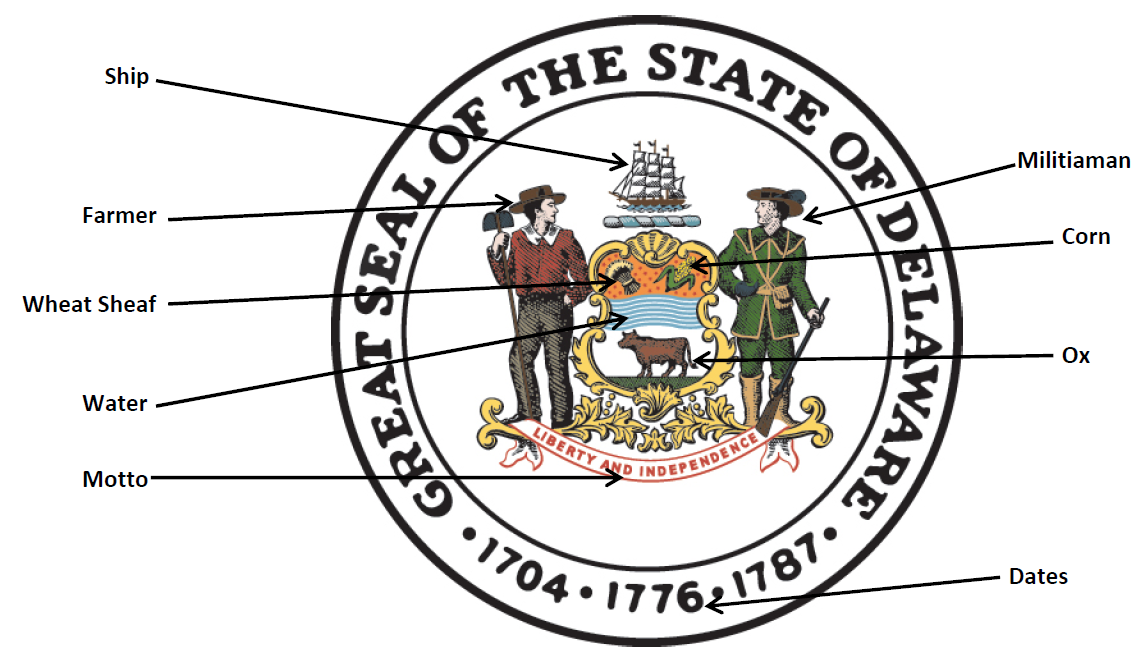 The Ship — is a symbol of New Castle County's ship building industry and Delaware's extensive coastal commerce.
The Wheat Sheaf — was adapted from the Sussex County seal and signifies the agricultural vitality of Delaware.
The Corn — is taken from the Kent County seal and also symbolizes the agricultural basis of Delaware's economy.
The Farmer — with the hoe represents the central role of farming to the state.
The Militiaman — with his musket recognizes the crucial role of the citizen-soldier to the maintenance of American liberties.
The Ox — represents the importance of animal husbandry to the state economy.
The Water — (Blue strip above the Ox) stands for the Delaware River, the main stay of the state's commerce and transportation.
The Motto — "liberty and independence" was derived from the Order of Cincinnati, and approved in 1847.
The Dates — 1704, the year that Delaware established its General Assembly; 1776, the year that our independence from Great Britain was declared; and 1787, the year that Delaware became "the First State" by being the first colony to ratify the United States Constitution.

The dates on the seal were 1793; 1847; and 1907 until 2004. Each of these dates indicated changes to the seal.

1793 – The figures of the farmer and the soldier were eliminated from the seal.
1847 – The farmer and the soldier were restored and the motto, "Liberty and Independence," was added on a ribbon at their feet.
1907 – The seal was "modernized" and "THE DELAWARE STATE" was changed to "THE STATE OF DELAWARE".
In 2004 by way of House Bill 128, the current dates were put in place of the former dates due to the historical significance of the new dates.